George: The Man of Milk and Money, Crains Detroit Business, April 18, 1988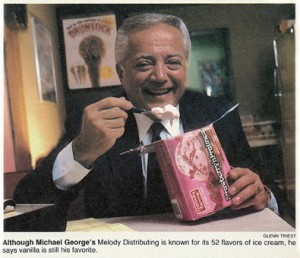 It is a warm weekday afternoon, and Michael George is digging a spoon into a fluffy pink pile of Strawberry and Praline ice cream.
Around him, advertising executives wait for his judgment on one of the flavors-of-the-month of Melody Distributing Co.
"This ice cream has been melted and frozen," George declares, causing consternation among the execs from the small ad agency that handles his products.
"Plain vanilla," he adds, setting the dish down, "that's the best flavor in the world." George declares the Strawberry-Praline flavor too sweet for his taste, but he gives it the nod because it will satisfy the public.
Although his company is known for its 52 flavors of ice cream, the publicity-shy president and CEO of Farmington Hills-based Melody Distributing isn't impressed by hype.
Behind the low profile is a savvy businessman involved in multimillion-dollar real estate developments, and a benevolent "godfather" whose Metro Detroit I Investment Co. has loaned millions to start-up businesses.
Michael, 55, and brother Sharkey, 65, the dairy's chairman, have built the dairy distribution business that their father started 38 years ago into a diversified company expected to have sales of more than $100 million in fiscal 1989.
Sharkey George does not participate in day-to-day operations of the company. Instead, he concentrates on strategic planning, said Michael Fowler, president of Metro Detroit Investment, a Melody Distributing subsidiary.
Fowler said Melody Distributing is one of the largest independently owned dairies in the country. Most dairies are owned by supermarket chains, are publicly held, or are cooperatives.
Melody Distributing is the largest privately owned dairy in Southeast Michigan, and ranked as the 56th-largest private company in Crain's March listing of the largest private firms in 1987. Melody distributes gourmet ice creams and specialty items such as egg nog and juices. It manufactures most of the dairy products that are sold under the Melody Farms label.
Convenience stores are Melody Distributing's biggest customers, but the company's products are also sold in supermarkets, restaurants, hospitals and schools. Melody Distributing's products are sold primarily in Michigan.
This summer, Melody Distributing will roll out fruit juice and juice-blend drinks – a segment that George expects will have sales of $10 million in fiscal 1989, which will end next March 31.
The company projects that sales will grow about 25 percent the following year.
"Juice today is becoming as big a business as dairy," George said. "We intend to handle any liquid product that doesn't have a deposit on it." He is lining up juice processors, primarily from Michigan, to sell him bottled juice.
The company will begin selling the 60-flavor line of Melody Farms juice drinks in about 90 days, primarily in convenience stores.
George, 55, does not give the impression of a man who has too many demands on his time. Impeccably dressed, George has an unhurried, attentive manner that grows from his emphasis on order. He consults a small pocket schedule several times in an hour to keep him on time. Ready with a quick joke and a beaming smile, he is an eager listener.
"He's hardworking, capable and successful," said William Wise, real estate planning manager for Ford Motor Land Development Co. in Dearborn. "He is a self-made businessman who has a fine reputation for doing what he says he's going to do."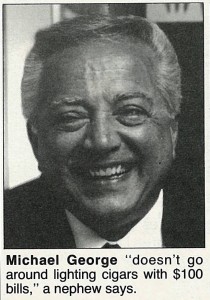 Joe Sarafa, executive director of the Associated Food Dealers of Michigan and George's nephew, said George "doesn't go around lighting cigars with $100 bills. He's well-respected , and he's earned that respect."
Jim Jonna, president and CEO of the Jonna Cos. in Farmington Hills and George's first cousin, said George "works hard for everybody, not only himself."
Many of the 2,000 stores in the Detroit area that carry Melody Farms products have at one time borrowed money from Melody Distributing.
George said Melody Distributing has helped finance about 700 new stores over the last 30 years. Through its Metro Detroit subsidiary that it created in 1978, Melody Distributing makes direct loans or guarantees bank loans for new businesses that cannot obtain other financing.
In return for the loan, the new stores are expected to sell Melody Farms products.
George said Metro Detroit has a $12 million loan portfolio, and helps secure bank financing for about $25 million to $30 million a year in loans.
The investment company is licensed by the U.S. Small Business Administration, and makes four year to five-year loans at interest rates slightly above bank rates, George said. Loans range from $25,000 to $350,000, he said.
Metro Detroit opened in June 1978, and has reserves of $2 million in private capital and $6 million that it has borrowed from the SBA, according to the SBA office in Washington.
"Our primary aim in loaning the money is not only helping our customers to obtain financing, but also to retain and add new customers for our dairy products," George said. "Our Metro Detroit loan company … definitely gives us an edge over our competitors."
Fowler said the company guarantees most loans through Michigan National Bank, but said the loan guarantees are signed by Melody Distributing Co. When it guarantees a loan, Melody charges a 1 percent loan fee up to a maximum of $I,500. In addition, the company benefits by securing a loan customer as a dairy account.
He said 1983 was the only year that the company had loan write-offs in excess of its income. Fowler said George has a "hands-on involvement" in Metro Detroit, and that George's knowledge of the community is routinely sought in making loan decisions.
Emmet Denha, owner of three Shoppers Markets supermarkets in Warren and Center Line, said a $25,000 loan from Metro Detroit enabled him to open his first store in 1971.
"Mike George started me in biz, and he didn't really know me, but gave me a loan to get my first store," Denha said.
George entered the dairy business in 1950, when his father Tom George opened Tom George & Sons Dairy Distributors. The company distributed Wilson's milk to three stores in Detroit. Michael, then 17, was the company's first delivery truck driver. Melody Distributing remains a closely held family business. Four of George's six sons work at the dairy.
Fred Abraham, who began in 1957 as an ice cream truck driver and rose to become Melody Distributing's CEO, said he never dreamed the company would grow to its present size.
Melody Distributing employs nearly 400 people at its plants in Livonia and Lansing and its corporate headquarters in Farmington Hills. The company had sales of $91.7 million in fiscal 1988, up from $82.1 million in fiscal 1987.
The dairy distribution business is not the only area that George intends to build upon.
Efforts to diversify Metro Detroit's loan portfolio include a $1 million loan and equity investment made July 1986 in Medview Inc., a Farmington Hills-based cost containment management company in the health-care industry. In September 1986, the company also made a $1 million loan and equity investment in Baytec Inc. in Sterling Heights, a company founded in 1983 that has developed computer hardware and software for the PC industry.
Independent of Melody Distributing, George has become a leading investor in business and real estate ventures.
He is the majority shareholder in Michigan Safe Deposit and Data Storage Co., a three-year-old safe deposit operator in Farmington Hills. George is also a partner with Farmington Hills-based Jonna Construction Co. on projects ranging from two Compri hotels to office buildings.
George credits his ability to succeed to his business associates and employees. "Surround yourself with good people, and you'll be successful. That's the motto of my life. People are the most important thing."