Melody Finds Stroh's Tasty, Crain's Detroit Business, February 15, 1999
ICE CREAM-MAKING WILL BE COMBINED IN DETROIT.
Date: February 15, 1999 Publication: Crain's Detroit Business Author: KOSDROSKY, TERRY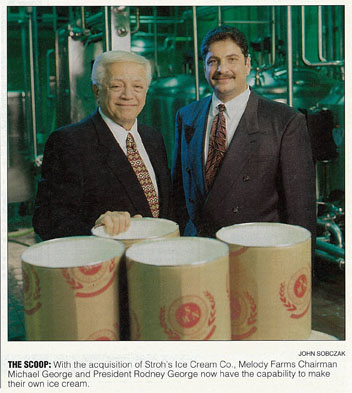 Melody Farms L.L.C. last week completed its acquisition of Stroh's Ice Cream Co. and now plans to consolidate all of its ice cream operations in Detroit and expand the business.
The estimated $18 million deal, which closed Feb. 8, means Melody Farms will produce its own brands and all Stroh's brands at the Stroh's plant in Detroit. Melody Farms ice cream had been produced at Michigan Dairy in Livonia, a plant owned by Kroger Co. Melody Farms purchased all Stroh's brands and equipment.
"Melody Farms hasn't produced its own ice cream, and this plant has the capacity to do both. We'll keep all brands and even add some," said Michael George, chairman of Melody Farms. "We aim to be a full-line supplier in frozen dairy."
The deal also includes a 60,000-square-foot cold-storage warehouse next to Stroh's. Melody Farms bought the operating rights from Arrow Cold Storage L.L.C. and 50 percent of the real estate from the DeMattia Group of Plymouth.
That will be the main distribution point for all Melody Farms and Stroh's ice cream products, said Rodney George, president of Farmington Hills-based Melody Farms and son of Michael George. Stroh's had been leasing 40 percent of the warehouse. Melody Farms will use 80 percent to 90 percent of it and lease the rest.
The acquisition is not expected to cause any layoffs. In fact, it should bring about 50 jobs to Detroit this year, Rodney George said. Some will be new employees, and some will be transferred from Livonia and Farmington Hills. Melody Farms, owned by the holding company Melody Foods Inc., reported $130 million in 1998 revenue. Stroh's had 1997 sales of $20 million.
Paying another company to produce its ice cream – a practice known in the industry as co-packing – had limited development of new products and meant Melody Farms had to do business according to another company's schedule.
"Our intention is to control our own destiny," Rodney George said. "We were limited because there wasn't a complete line of equipment for our product. We used to have to work with a third party just to introduce a new product. Now we can just do it."
In fact, Melody Farms is interested in producing other companies' ice cream at the Stroh's plant, he said. A dairy industry analyst said such a deal could mean a big boost in profits for privately held Melody Farms.
"Owning your own plant can really boost your bottom line because you can pack for other ice cream companies, and that's really profitable," said Cathy Sivak, editor of Northbrook, Ill.-based Dairy Field magazine. "If they have the capacity to co-pack with others instead of paying somebody to do it for them, that's a real payoff." Stroh's modern production plant and warehouse were major considerations in the decision to buy the company, Michael George said. Stroh's had been pumping out 6 million gallons of ice cream a year. Melody Farms plans to increase that production to 12 million gallons a year. The plant can handle that capacity easily when another shift is added, Rodney George said. Gary Giller, former president of Stroh's, said his family-run company had reached its limit in improving the plant and growing the brand. Giller's father, Ohio businessman Stuart Giller, bought Stroh's Ice Cream in 1990. Sales subsequently went from 1.5 million gallons a year to 4.3 million in 1997. The Gillers added new high-margin products, such as super-premium Stroh's Homemade ice cream with Sander's toppings. The company also acquired the Mooney's and Nafzinger's brands under Giller's management. Stroh's market share increased by 1.5 points in 1997 to 14 percent in the half-gallon market. "We needed to put more volume at the plant, and we reached our capability as a small company," Gary Giller said. "This industry is highly competitive, and there have been 30 to 40 mergers and acquisitions in the past 18 months. Our intent is to grow as a business, and we were always looking for mergers, but it was prudent this time to sell." The Gillers will not remain with the company under the new ownership. For Melody Farms, the acquisition search began in early 1998 after Kansas-based Dairy Farmers of America Inc., the nation's largest dairy co-op, bought a minority interest in the company. Michael George said the Stroh's deal likely won't be the last one. Melody Farms is in negotiations with at least one other milk-producing dairy, he said. Sivak said Melody Farms' actions reflect a trend in the industry. Dairy Farmers of America is buying minority interests in several regional companies that then go on to buy smaller competitors, she said . "That's their mode of operation," Sivak said. "And I don't see Stroh's and its $20 million in sales as the be-all and end-all of what Melody Farms is all about." Besides adding sales volume, the Stroh's deal also improves the economies of scale for Melody Farms. One truck now will deliver more ice cream with a wider variety of flavors and prices to grocery stores. And Melody Farms hopes to add customers for both brands. Stroh's is sold at stores where Melody Farms is not and vice versa.
Stroh's products also may gain distribution in another state. Both companies had sold products in Michigan, Ohio and Indiana, but while Melody Farms was a distributor in Illinois, Stroh's had not been in that market.
COPYRIGHT 2009 Crain Communications, Inc. This material is published under license from the publisher through the Gale Group, Farmington Hills, Michigan. All inquiries regarding rights should be directed to the Gale Group.