Melody Foods Plans Step-Up in Acquisitions, The Detroit News, April 2, 1998
Date: April 2, 1998 Publication: The Detroit News Author: KING, RJ.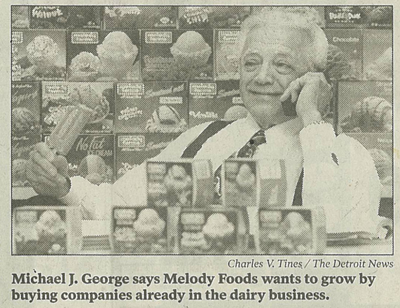 FARMINGTON HILLS – Melody Foods Inc. hopes to expand through acquisitions after signing a deal with Dairy Farmers of America Inc. to consolidate its procurement and distribution of raw milk.
Melody Foods, which sells products ranging from ice cream to juice drinks under the Melody Farms brand name, plans to purchase firms already in the food business, said Michael J. George, chairman and chief executive of Melody Foods.
"We're looking at acquisitions primarily in the dairy business, but really anything in the food business," said George, who started the firm in Detroit in 1950 with his father, Tom, and brother, Sharkey. "Dairy Farmers of America is our minority partner.
"They will represent us in buying and delivering all of our raw milk, and in return, we will have access to new financial resources for expansion opportunities. My philosophy is to stay in the business you know best, so we will diversify in our industry."
In addition to providing access to investment capital, Dairy Farmers of America, the largest dairy co-op in the nation, can assure Melody Foods a steady supply pipeline.
"If there's a drought in our state that reduces the supply of raw milk, Dairy Farmers of America can move around and supply milk from other states," George said. "If such a situation arises, it would help us hold down the price of dairy goods."
With the deal, Dairy Farmers of America, based in Springfield, Mo., is entering the Michigan market for the first time.
"The deal with Melody Foods will help us deliver milk to the processing plant at the lowest possible price," said David Geisler, vice-president of Dairy Farmers of America. "It will help Melody Foods keep the price of milk and other dairy goods down."
Melody Foods has its corporate headquarters in Farmington Hills, but operates a large plant and sales office in Livonia. The company also owns Midwest Wholesale Foods Inc. in Flint and Pioneer Snacks Inc. in Farmington Hills.