Want Milk?, Arabica Magazine, Summer 2001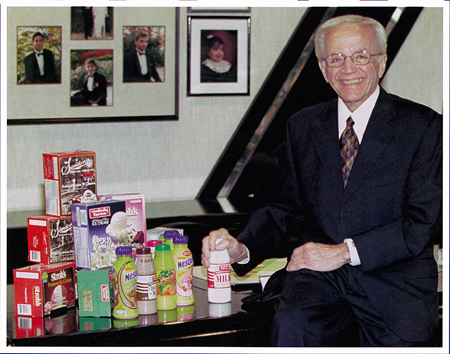 Melody Farms founder Michael George lets out a sigh. He is worried people aren't drinking enough Milk.
For some, who would no sooner worry about milk than they would global warning, it's not an obvious concern. But for someone as tied to the daily industry as Michael is, American milk consumption can be an acutely meaningful statistic. It can spell the difference in the business' success or failure.
As I listen to this man talk, I marvel at how this pillar of the Chaldean community seemingly is fixated on what we all take for granted.
Ever since Melody Farms became one of the largest privately owned producers in the Midwest, he's been concerned with what kinds of daily products Americans are eating and drinking and how much they are consuming. Just as he launches into an explanation of how Melody Farms will meet the challenge of generations who continue to favor soft drinks and bottled water over milk, a cell phone interrupts our conversation.
"Excuse me," he says, walking out of the room. He is gone for several minutes. I walk around the spacious office.
The 68-year-old entrepreneur is not at all what I expected. I envisioned a businessman who barks orders and bullies everyone. He's been called the Chaldean Godfather, a name he eschews.
"I am aware of the Godfather title," Michael says. "I hate it because people outside our community take it in the wrong sense. Godfather is a bad word because of the Italian custom it was derived from. I have absolutely no idea how they came up with it. Maybe it's my exposure and my social and business commitment to the community." Indeed, he looks more like my grandfather, diminutive and unassuming.
He is wearing dark slacks and a multicolored sweater, not the attire of a dealmaker. He is polite and not the least bit intimidating.
I make my way around his polished desk to get a closer look at the pictures on the wall. They are all of his children and grandchildren.
"I like to keep them all close to my heart," he says. Michael gets in a word or two before his cell phone rings again. He looks embarrassed but answers it. He leaves the room again, aware that a reporter is listening.
As I wait for him to return, I see he is a fastidious man who gives great attention to details, which may explain the rapid growth of Melody Farms. His files, books and even the pictures on the walls are arranged to complement one another. His office is decorated with black and gray furniture, a few plants and a collection of paperweights. In one corner he displays the many industry and community awards and plaques he's received. Michael, a second-generation Chaldean American, was born and raised in Detroit. He graduated from Catholic Central High School in Detroit (Redford) before joining the U.S. Anny in 1953. He left the army two years later and went to work in his father's grocery store, a foreshadowing event so often found in success stories built of the hard work of families.
He walks back into the room, sits down and says, "Where were we?" "Milk," I say. Of course.
Again, daily worries take over. "Milk is difficult to market," Michael says. "We're trying to find new ways to entice consumers. "Melody Farms reinvigorated the beverage market three years ago by making milk a traveling treat. The daily distributor retired the squat, square, tear-open boxes familiar in elementary school cafeterias across the United States and produced a round, re-sealable, pint-size milk bottle that fits securely in coffee and soft drink cup holders in cars.
The lean bottles make it easy to drink milk on the go. They resemble juice drink containers and are the second most exciting product to come out of the dairy industry in the last 30 years, according to Michael. The first best thing is yogurt, he says.
Our conversation is interrupted again. This time it's his office phone. He takes the call. Michael's cell phone rings, too. He takes that call. I look up at him and can't help smiling. He has a phone at each ear. Now he looks like the Wall Street type I had imagined, the kind who must take every call himself. Michael ends the conversations and resumes the interview with me.
Melody Farms plans to reintroduce Americans to milk by offering new flavors such as strawberry banana and pina colada. The new flavors are still in the testing phase.
He explains the history of Melody Farms, arose-from-the-ground-up success story.
"When I graduated from high school in 1950 I told my dad I wanted to start my own business," he says. "My dad said you have to go into the milk and bread business because people will always eat bread and drink milk."
Michael; his brother, Sharkey; and their father, Tom George, started a small dairy distributorship in Highland Park. The company changed names several times before becoming Melody Farms in 1975.
During the rnid-1970s, the company began to develop its own dairy products under the Melody Farms brand name. Nearly 12 years later, Melody Farms expanded its distribution network throughout Michigan and northern Ohio. By the end of the '80s, Melody Farms' corporate sales topped $100 million, effectively ushering the company into the top echelon of independent milk distributors.
The last few years have been a period of growth for Melody Farms, Michael says. The company acquired new product lines, including Stroh's and Nafziger's ice cream, and began producing cheeses, beverages and other brand-name products.
The company's generic-brand products, which once were sold only in service stations and independent grocery stores, are now found in the freezer section of larger grocery retail stores.
Company sales were more than $150 million last year, Michael says.
"I'm pleased with our accomplishments," he says. "But I'm not satisfied. We need to continue to grow our companies. We can't survive without growth. How do we grow yet remain independent?" he asks and then answers.
"We want to continue to go after major customers and buy out other dairies that are contiguous to our category," Michael says. "We want to add more product lines in the refrigerated and frozen food areas. That's how we're going to grow."
Michael, satisfied with his comments, signals an end to the interview.
I have a few more questions, considering we haven't spent much time on his family life or personal activities. "What are your hobbies?" I ask.
He chuckles. "If you want to be successful in business you can't put a lot of time aside for pleasure," he says.
Michael still puts in as many hours today as he did when he first started Melody Farms. The 12-hour days leave little time for relaxing.
He does, on occasion, find time to kick back and enjoy his three favorite things: family, fishing and bowling. Michael recently resigned the majority of his board positions to spend more time with his family and 10 grandchildren. He and his wife, Najat, have been married for 41 years and have six sons.
When he is not handling Melody Farms issues, he works with cultural and charitable organizations. At one time, he served on 19 boards simultaneously.
Retirement, however is on hold. When he does step down, he's made sure the company stays in the family. His children, along with his brother Sharkey's five children, will take over the business.
"Our sons grew up in the business and share the same commitment," he says.